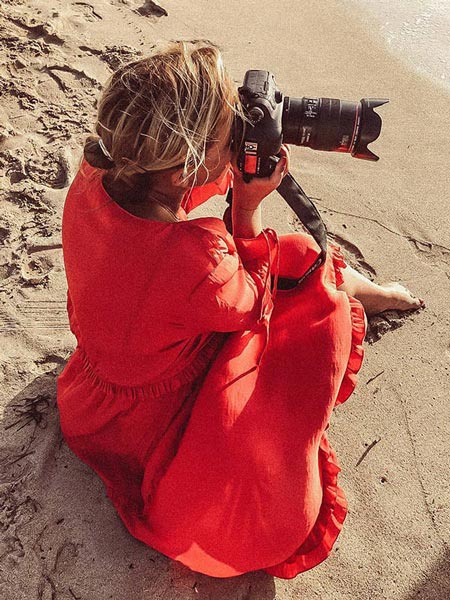 Tanja Tremel
- about
Photographer
Berlin, Germany
en
Passion over profit - that's the narrative of most creative careers and longevity as an photographer. By intriguing storytelling, I'm always following a feminine imagery and expressive aesthetics.
With my eye for details, I open new contexts in the progressive world of fashion and lifestyle.
No matter if I'm in my hometown Berlin, the Scandinavian ice desert or the beaches of Cape Town or L.A. - my environment always impacts my creative output.
de
Meine akribische Arbeitsweise siedelt Passion über Profit an.
Die dadurch geschaffene, Bild-Atmosphäre ermöglicht sowohl ein emotionales Storytelling als auch eine feminine Bildsprache.
Mein Auge für Details erlaubt im kreativen Schaffensprozess, Kontexte der progressiven Welt von Fashion und Lifestyle in den Fokus zu stellen.
Ob in meiner Wahlheimat Berlin, in der skandinavischen Eiswüste oder in sonnigen Metropolen wie Los Angeles oder Kapstadt - die Eindrücke und Atmosphäre der Umgebung fließen jedes Mal auf's Neue in meine Ästhetik mit ein.
Vita
1998 Ausbildung als Fotografin,
Otto-Konzern
1998 Photography apprentice,
Otto Group
Seit 2008 freiberufliche Modefotografin
Since 2008 freelance fashion photographer
Branchen
Fashion
Lifestyle
Plus Size
Kindermode / Kids fashion
Freie Projekte / inspirational projects
Published
Cosmopoliton
Eyewear
Harper's BAZAAR
Institute Magazine
InStyle
L'Officiel
Quality Magazine
Spectr Magazine
The Curvy Magazine
Kunden
adidas
Anita
bonprix
Baur
Deerberg
Ernstings family
Esprit
Heine
Kenny S
Otto
Sally Sahne
Ulla Popken
Waschbär
Witt Weiden
Danke.
Für die tollen Eindrücke, Erfahrungen und für euer Vertrauen.
Thank you.
For the great impressions, experiences and for your trust.
Philosophy
My camera is the catalysator for all my emotions and impressions - concerning the people, the cities, and situations, that permanently take place right around us. I structure these honest moments of the ambivalent world to give it perfect sense - in an authentic and honest way.
Just like the world of fashion, I am permanently searching for the versatile, mercurial, and therefore intimate view on how beauty is understood and showcased all around our planet.
Meine Kamera ist das Instrument all meine Emotionen, die Eindrücke der Menschen, der Städte und Situationen, die ständig um uns herum stattfinden, einzufangen.
Diese Momente halten unsere ambivalente Welt in einem kurzen Augenblick fest und zeigen uns diese auf ehrliche und authentische Weise.
Wie die Modewelt, bin auch ich auf der permanenten Suche nach dem facettenreichen, wechselhaften und intimen Eindruck – mein Verständnis davon wie Schönheit rund um den Planeten verstanden und zum Ausdruck gebracht werden kann.